Neurosecretory Peptides
Authors
INTRODUCTION
The concept that neurons would be capable of secretory function was first proposed by Scharrer in 1928 and was based on observations made in fish.1 These observations were later extended to mammals in experiments that demonstrated that extracts from certain neurons contained bioassayable vasopressin activity. Because the initial identification of vasopressin, a growing number of neuropeptides, some of which directly influence reproductive function, have been identified.
Unlike the classic neurotransmitters that are secreted after enzymatic conversions at the nerve terminal, peptide synthesis requires transcription of mRNA from DNA, subsequent translation on ribosomes, and posttranslational processing. This synthesis occurs in the neuronal cell body rather than at the nerve terminals. The initial product is usually a larger molecular weight precursor molecule that is then transported down the axon and further processed by enzymatic cleavage into the active peptide before secretion (Fig. 1). From a phylogenetic perspective, the widespread distribution of brain peptides probably reflects evolutionary conservation of vital regulatory functions imposed by these peptides. For example, a vasopressin-like peptide occurs in the freshwater snail, in which it functions as a neurotransmitter. The importance of neuropeptides is further supported by the presence in higher animals of multiple subtypes of many of the neuropeptides and their receptors, with each having different physiologic roles.2 Although it is likely that these multiple subtypes of neuropeptides and their receptors arose through genome duplication events, their retention and diversification into separate physiologic roles convey their importance and suggest that additional subtypes remain to be discovered.2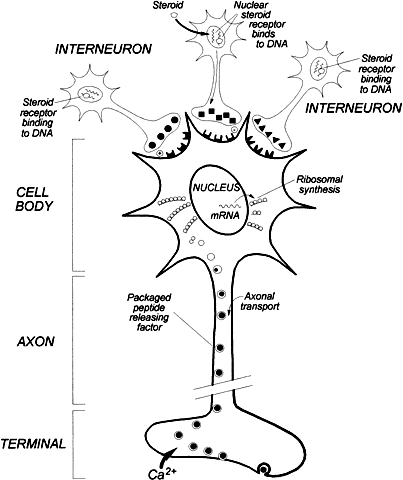 Fig. 1. Schematic representation of the prototype neurosecretory neuron. Peptide synthesis is initiated in the cell body under the direction of mRNA. The peptide is then packaged into neurosecretory granules and transported down the axon by axoplasmic flow to the nerve terminals. Neurosecretory activity can be regulated by excitatory or inhibitory interneurons or by steroids.
On the basis of evidence from many biologic systems, information transfer from the neurosecretory neuron can modulate biologic activity by four principal means: autocrine, paracrine, neuroendocrine, and neurotransmission. The most direct form of neurohumoral signaling is the autocrine mode, in which the release of a substance from the cell acts to autoregulate activity within that same cell. For example, gonadotropin-releasing hormone (GnRH) inhibits its own gene transcription in hypothalamic neurons.3 The paracrine mode of communication occurs when secretion of a substance controls activity on adjacent cells. This mode of regulation functions in the pituitary. When gonadotrophs (i.e. luteinizing hormone [LH]- and follicle stimulating hormone [FSH]-secreting cells) are exposed to GnRH, a paracrine product is secreted that allows adjacent lactotrophs to respond with prolactin release.4 A third form of informational transfer, the neuroendocrine mode, is characterized by a release of a neurohumoral product such as oxytocin into the general circulation to regulate distant tissues that have oxytocin receptors, such as the myoepithelial cells of the breast, causing these cells to eject milk.
Neurotransmission can be conceptualized as a special form of paracrine secretion in which there is cell-to-cell communication through typical synaptic contacts. The classic neurotransmitters include acetylcholine, norepinephrine, epinephrine, dopamine, histamine, serotonin, and γ-aminobutyric acid (GABA). In general, neurons that contain these transmitters are activated by an action potential above a threshold leading to membrane depolarization presynaptically. Ion fluxes then mobilize release of a small amount of the transmitter substance, which diffuses across the synaptic gap and causes excitatory or inhibitory postsynaptic potentials. The transmitter is then removed by enzymatic degradation or a reuptake mechanism. It is unclear whether all brain peptides are capable of synaptic transmission; however, it is estimated that the classic neurotransmitters only account for 40% of the synaptic contacts in the central nervous system.5 Peptide-secreting hypothalamic neurons make synaptic contact with each other (Fig. 1), and it is likely that neuropeptides play an important role in the modulation of synaptic transmission.
ISOLATION AND CHARACTERIZATION OF NEUROPEPTIDES
TRANSGENIC TECHNOLOGY AND ITS APPLICATION TO THE STUDY OF NEUROSECRETORY PEPTIDES
NEUROHYPOPHYSIAL HORMONES
HYPOTHALAMIC-RELEASING FACTORS
OPIOID PEPTIDES
REFERENCES
| | |
| --- | --- |
| | Scharrer E, Scharrer B: Secretory cells within the hypothalamus. In The Hypothalamus: Association for Research on Nervous and Mental Disease. New York: Hafner, 1940 |
| | Darlison M, Richter D: Multiple genes for neuropeptides and their receptors: co-evolution and physiology. Trends Neurosci 22: 81, 1999 |
| | Cho S, Han J, Sun W et al: Evidence for autocrine inhibition of gonadotropin-releasing hormone (GnRH) gene transcription by GnRH in hypothalamic GT1–1 neuronal cells. Mol Brain Res 50: 51, 1997 |
| | Denef C, Andries M: Evidence for paracrine interaction between gonadotrophs and lactrotrophs in pituitary cell aggregates. Endocrinology 112: 813, 1983 |
| | Krieger DT: Brain peptides: What, where, and why. Science 222: 975, 1983 |
| | Matsuo H, Baba Y, Nair RMG et al: Structure of the porcine LH and FHS releasing factor: I. The proposed amino acid sequence. Biochem Biophys Res Commun 43: 1334, 1971 |
| | Burgus R, Butcher M, Ling N et al: Molecular structure of the hypothalamic factor (LRF) of ovine origin monitoring the secretion of pituitary gonadotropic hormone of luteinization (LH). Comptes Rendus Hebdomadaires Seances Acad Sci 273: 1611, 1971 |
| | Brazeau P, Vale W, Burgus R et al: Hypothalamic polypeptide that inhibits the secretion of immunoreactive pituitary growth hormone. Science 179: 77, 1973 |
| | Cooper JR, Bloom FE, Roth RH: The biochemical basis of neuropharmacology. In: Cooper JR, Bloom FE, Roth RH (eds): Neuroactive Peptides. New York: Oxford University Press, 1982 |
| | Majzoub JA, Muglia LJ: Knockout mice. N Engl J Med 334: 904, 1996 |
| | Robinson AG: Isolation, assay and secretion of individual human neurophysins. J Clin Invest 55: 360, 1975 |
| | Dierickx K, Van de Sande F: Immunocytochemical demonstration of separate vasopressin-neurophysin and oxytocin-neurophysin neurons in the human hypothalamus. Cell Tissue Res 196: 203, 1979 |
| | Robertson GL: The regulation of vasopressin function in health and disease. Recent Prog Horm Res 33: 333, 1977 |
| | Ritta-Fuchs, Fuchs F: Endocrinology of human parturition: A review. Br J Obstet Gynecol 91:948, 1984 |
| | Nishimori K, Young LJ, Guo Q et al: Oxytocin is required for nursing but is not essential for parturition or reproductive behavior. Proc Natl Acad Sci USA 93: 11699, 1996 |
| | Fuchs AR, Fuchs F, Husslein P et al: Oxytocin receptor and human parturition: A dual role for oxytocin in the initiation of labor. Science 215: 1396, 1982 |
| | Liu JH, Muse K, Contreras P et al: Augmentation of ACTH-releasing activity of synthetic corticotropin releasing factor by vasopressin in women. J Clin Endocrinol Metab 57: 1087, 1983 |
| | Legros JJ, Chiodera P, Demey-Ponsart E: Inhibitory influence of exogenous oxytocin on adrenocorticotropin secretion in normal human subjects. J Clin Endocrinol Metab 55: 1035, 1982 |
| | Bergland RM, Page RB: Can the pituitary secrete directly to the brain? (affirmative anatomical evidence). Endocrinology 102: 1326, 1978 |
| | Gibbs DM: Dissociation of oxytocin, vasopressin, and corticotropin secretion during different types of stress. Life Sci 35: 487, 1984 |
| | Weingartner H, Gold P, Ballenger JL et al: Effects of vasopressin on human memory functions. Science 211: 601, 1981 |
| | Ferrier BM, Kennett DJ, Deviin ML: Influence of oxytocin on human memory processes. Life Sci 27: 2311, 1980 |
| | Pedersen CA, Prange AJ Jr: Induction of maternal behavior in virgin rats after intracerebroventricular administration of oxytocin. Proc Natl Acad Sci USA 76: 6661, 1979 |
| | Valtin H, Schroeder HA: Familial hypothalamic diabetes insipidus in rats (Brattleboro strain) [1964 classic article]. J Am Soc Nephrol 8: 1333, 1997 |
| | Bohus B, de Wied D: The vasopressin deficient Brattleboro rats: a natural knockout model used in the search for CNS effects of vasopressin. Prog Brain Res 119: 555, 1998 |
| | Boler J, Enzmann F, Folkers K et al: The identity a chemical and hormonal properties of the thyrotropin releasing hormone and pyro-glutamyl-histadyl proline amide. Biochem Biophys Res Commun 37: 705, 1970 |
| | Jackson IMD: Extrahypothalamic and phylogenetic distribution of hypothalamic peptides. In: Greae RS (ed): The Hypothalamus. New York: Raven Press, 1978 |
| | Vale W, Rivier C, Brown M: Regulatory peptides of the hypothalamus. Annu Rev Physiol 39: 473, 1977 |
| | Yamada M, Saga Y, Shibusawa N et al: Tertiary hypothyroidism and hyperglycemia in mice with targeted disruption of the thyrotropin-releasing hormone gene. Proc Natl Acad Sci USA 94: 10862, 1997 |
| | Silverman AS, Antunes JL, Ferin M et al: The distribution of luteinizing hormone-releasing hormone in the hypothalamus of the rhesus monkey: Light microscope studies using immunoperoxidase technique. Endocrinology 101: 134, 1977 |
| | Seeburg PH, Adelman JP: Characterization of cDNA for precursor of human luteinizing hormone releasing hormone. Nature 311: 666, 1984 |
| | Adelman JP, Mason AJ, Hayflick JS, Seeburg PH: Isolation of the gene and hypothalamic cDNA for the common precursor of gonadotropin-releasing hormone and prolactin release-inhibiting factor in human and rat. Proc Natl Acad Sci USA 83: 179, 1986 |
| | Radovick S, Wondisford FE, Nakayama Y et al: Isolation and characterization of the human gonadotropin-releasing hormone gene in the hypothalamus and placenta. Mol Endocrinol 4: 476, 1990 |
| | Schwanzel-Fukuda M, Jorgenson KL, Bergen HT, Weesner GD, Ffaff DW: Biology of normal luteinizing hormone-releasing hormone neurons during and after their migration from olfactory placode. Endocr Rev 13: 623, 1992 |
| | Jeffcoate SL, Greenwood RH, Holland DT: Blood and urine clearance of luteinizing hormone releasing hormone in man measured by radioimmunoassay. J Endocrinol 60: 305, 1974 |
| | Belchetz P, Plant TM, Nakai Y et al: Hypophysial responses to continuous intermittent delivery of hypothalamic gonadotropin-releasing hormone. Science 202: 631, 1980 |
| | Sakuma Y, Pfaff D: LHRH in the mesencephalic central grey can potentiate lordosis reflex of female rats. Nature 283: 566, 1980 |
| | Sakuma Y, Pfaff DW: Modulation of the lordosis reflex of female rats by LHRH, its antiserum and analogs in the mesencephalic gray. Nature 283: 566, 1980 |
| | Loumaye E, Thorner J, Catt KJ: Yeast mating pheromone activates mammalian gonadotrophs: Evolutionary conservation of a reproductive hormone? Science 218: 1323, 1982 |
| | Jan YN, Jan LY, Kuffler SW: A peptide as possible transmitter in sympathetic ganglia of the frog. Proc Natl Acad Sci USA 76: 1501, 1979 |
| | Yen SSC, Lasley BL, Wang CF et al: The operating characteristic of the hypothalamic pituitary system during the menstrual cycle and observations of biological action of somatostatin. Recent Prog Horm Res 31: 321, 1975 |
| | Tavianini M, Hayest T, Magazin M et al: Isolation, characterization of DNA sequence of the rat somatostatin gene. J Biol Chem 259: 11798, 1984 |
| | Plotsky PM, Vale W: Patterns of growth hormone releasing factor and somatostatin secretion into the hypophyseal portal circulation of the rat. Science 230: 461, 1985 |
| | Schwartz JP, Taniwaki T, Messing A, Brenner M: Somatostatin as a trophic factor: Analysis of transgenic mice overexpressing somatostatin in astrocytes. Ann N Y Acad Sci 780: 29, 1996 |
| | Zheng H, Bailey A, Jiang M et al: Somatostatin receptor subtype 2 knockout mice are refractory to growth hormone-negative feedback on arcuate neurons. Mol Endocrinol 11: 1709, 1997 |
| | Martinez V, Curi AP, Torkian B et al: High basal gastric acid secretion in somatostatin receptor subtype 2 knockout mice. Gastroenterology 114: 1125, 1998 |
| | Vale W, Spiess J, Rivier C et al: Characterization of a 41 residue ovine hypothalamic peptide that stimulates secretion of corticotropin and β-endorphin. Science 213: 1394, 1981 |
| | Shibahara S, Morimoto Y, Furutani Y et al: Isolation and sequence analysis of the human corticotropin-releasing factor precursor gene. EMBO J 2: 775, 1983 |
| | Suda T, Tomori N, Tozawa F et al: Distribution and characterization of immunoreactive corticotropin-releasing factor in human tissues. J Clin Endocrinol Metab 55: 861, 1984 |
| | Mershon JL, Sehlhorst CS, Rebar RW, Liu JH: Evidence of a corticotropin-releasing hormone pulse generator in the macaque hypothalamus. Endocrinology 130: 2991, 1992 |
| | Brown MR, Fisher LH, Spiess J et al: Corticotropin-releasing factor: Actions on the sympathetic nervous system and metabolism. Endocrinology 111: 928, 1982 |
| | Nemeroff CB, Widerlov E, Bissette G et al: Elevated concentrations of CSF corticotropin-releasing factor-like immnoreactivity in depressed patients. Science 226: 1342, 1984 |
| | Gambacciani M, Yen SSC, Rasmussen DD: GnRH release from the mediobasal hypothalamus: In vitro inhibition by corticotropin-releasing factor. Neuroendocrinology 43: 533, 1986 |
| | Rivier C, Rivier J, Vale W: Stress-induced inhibition of reproductive function: Role of endogenous corticotropin releasing factor. Science 231: 607, 1986 |
| | Williams CL, Nishihara M, Thalabard JC, Grosser PM, Hotchkiss J, Knobil E: Corticotropin-releasing factor and gonadotropin-releasing hormone pulse generator activity in the rhesus monkey: Electrophysiological studies. Neuroendocrinology 52: 133, 1990 |
| | Barbarino A, DeMarinis L, Tofani A et al: Corticotropin releasing hormone inhibition of gonadotropin release and the effects of opioid blockade. J Clin Endocrinol Metab 68: 523, 1989 |
| | Thomas MA, Rebar RW, LaBarbera AR et al: Dose-response effects of exogenous pulsatile human corticotropin-releasing hormone on adrenocorticotropin, cortisol, and gonadotropin concentrations in agonadal women. J Clin Endocrinol Metab 72: 1249, 1991 |
| | Schurmeyer TH, Augerinos PC, Gold PW et al: Human corticotropin-releasing factor in man: Pharmacokinetic properties and dose-response of plasma adrenocorticotropin and cortisol secretion. J Clin Endocrinol Metab 59: 1103, 1984 |
| | Stenzel-Poore MP, Heinrichs SC, Rivest S et al: Overproduction of corticotropin-releasing factor in transgenic mice: A genetic model of anxiogenic behavior. J Neurosci 14: 2579, 1994 |
| | Muglia L, Jacobson L, Majzoub JA: Production of corticotropin-releasing hormone-deficient mice by targeted mutation in embryonic stem cells. Ann N Y Acad Sci 780: 49, 1996 |
| | Muglia L, Jacobson L, Dikkes P, Majzoub JA: Corticotropin-releasing hormone deficiency reveals major fetal but not adult glucocorticoid need. Nature 373: 427, 1995 |
| | Chrousos GP, Schulte HM, Oldfield EH et al: The corticotropin-releasing factor stimulation test. N Engl J Med 310: 622, 1984 |
| | Chalmers DT, Lovenberg TW, Grigoriadis DE et al: Corticotrophin-releasing factor receptors: From molecular biology to drug design. Trends Pharmacol Sci 17: 166, 1996 |
| | Vaughan J, Donaldson C, Bittencourt J et al: Urocortin, a mammalian neuropeptide related to fish urotensin I and to corticotropin-releasing factor. Nature 378: 287, 1995 |
| | Danaldson CJ, Sutton SW, Perrin MH et al: Cloning and characterization of human urocortin. Endocrinology 137: 3896, 1996 |
| | Asaba K, Makino S, Hashimoto K: Effect of urocortin on ACTH secretion from rat anterior pituitary in vitro and in vivo: Comparison with corticotropin-releasing hormone. Brain Res 806: 95, 1998 |
| | Schilling L, Kanzler C, Schmiedek P, Ehrenreich H: Characterization of the relaxant action of urocortin, a new peptide related to corticotropin-releasing factor in the rat isolated basilar artery. Br J Pharmacol 125: 1164, 1998 |
| | Rivier I, Spiess J, Thorner MO et al: Characterization of a growth hormone-releasing factor from a human pancreatic islet tumor. Nature 300: 276, 1982 |
| | Guillemin R, Brazeau P, Bohlen P et al: Growth hormone-releasing factor from a human pancreatic tumor that caused acromegaly. Science 218: 585, 1982 |
| | Vance ML, Borges JL, Kaiser DL et al: Human pancreatic tumor growth hormone releasing factor: Dose-response relationships in normal man. J Clin Endocrinol Metab 58: 838, 1984 |
| | Gelato MC, Pescovitz O, Cassorla F et al: Effects of growth hormone releasing factor in man. J Clin Endocrinol Metab 57: 674, 1983 |
| | Gelato MC, Merriam GR, Vance ML et al: Effects of growth hormone-releasing factor on growth hormone secretion in acromegaly. J Clin Endocrinol Metab 60: 251, 1985 |
| | Weidlin N, Culler F, Villanueva A et al: Diminished growth hormone release in response to human pancreatic growth hormone releasing factor (hpGRF-44) in hyperprolactinemic women. Presented before the Seventh International Congress of Endocrinology, 1984 |
| | Thorner MO, Reschke J, Chitwood J et al: Acceleration of growth in two children treated with human growth hormone releasing factor. N Engl J Med 312: 4, 1985 |
| | Chapman IM, Pescovitz OH, Murphy G et al: Oral administration of growth hormone (GH) releasing peptidemimetic MK-677 stimulates the GH/insulin-like growth factor-I axis in selected GH-deficient adults. J Clin Endocrinol Metab 82: 3455, 1997 |
| | Allen YS, Adrian TG, Allen JM et al: Neuropeptide 5 distribution in the brain. Science 221: 877, 1983 |
| | Kalra SP, Crowley WR: Neuropeptide Y: A novel neuroendocrine peptide in the control of pituitary hormone secretion and its relation to luteinizing hormone. Front Neuroendocrinol 13: 1, 1992 |
| | Balasubramaniam A: Neuropeptide Y family of hormones: Receptor subtypes and antagonists. Peptides 18: 445, 1997 |
| | Kalra SP, Kalra PS: Nutritional infertility: The role of the interconnected hypothalamic neuropeptide Y-galanin-opioid network. Front Neuroendocrinol 17: 371, 1996 |
| | Clark JT, Kalra PS, Kalra SP: Neuropeptide Y stimulate feeding but inhibits sexual behavior in rats. Endocrinology 117: 2435, 1985 |
| | Erickson JC, Clegg KE, Palmiter RD: Sensitivity to leptin and susceptibility to seizures of mice lacking neuropeptide Y. Nature 381: 415, 1996 |
| | Stephens TW: Fat regulation: Life without neuropeptide Y. Nature 381: 377, 1996 |
| | Langel U, Bartfai T: Chemistry and molecular biology of galanin receptor ligands. Ann N Y Acad Sci 863: 86, 1998 |
| | Vrontakis M, Peden L, Duckworth M, Friesen H: Isolation and characterization of a complementary DNA (galanin) clone from estrogen-induced pituitary tumor messenger RNA. J Biol Chem 262: 16755, 1987 |
| | Branchek T, Smith K, Walker M: Molecular biology and pharmacology of galanin receptors. Ann N Y Acad Sci 863: 94, 1998 |
| | Habert-Ortoli E, Amiranoff B, Loquet I et al: Molecular cloning of a functional human galanin receptor. Proc Natl Acad of Sci USA 91: 9780, 1994 |
| | Rokaeus A, Jiang K, Spyrou G, Waschek J: Transcriptional control of the galanin gene: Tissue-specific expression and induction by NGF, protein kinase C, and estrogen. Ann N Y Acad Sci 863: 1, 1998 |
| | Hohmann J, Clifton D, Steiner R: Galanin: analysis of its coexpression in gonadotropin-releasing hormone and growth hormone-releasing hormone neurons. Ann NY Acad Sci 863: 221, 1998 |
| | Leibowitz S, Akabayashi A, Alexander J, Wang J: Gonadal steroids and hypothalamic galanin and neuropeptide Y: Role in eating behavior and body weight control in female rats. Endocrinology 139: 1771, 1998 |
| | Kalra S, Horvath T: Neuroendocrine interactions between galanin, opioids, and neuropeptide Y in the control of reproduction and appetite. Ann NY Acad Sci 863: 236, 1998 |
| | Wynick D, Small C, Bacon A et al: Galanin regulates prolactin release and lactotroph proliferation. Proc Natl Acad Sci USA 95: 12671, 1998 |
| | Akabayashi A, Koenig JI, Watanabe Y et al: Galanin-containing neurons in the paraventricular nucleus: a neurochemical marker for fat ingestion and body weight gain. Proc Natl Acad Sci USA 91: 10375, 1994 |
| | Kalra SP, Dube MG, Pu S et al: Interacting appetite-regulating pathways in the hypothalamic regulation of body weight. Endocr Rev 20: 68, 1999 |
| | Leibowitz S: Differential functions of hypothalamic galanin cell grows in the regulation of eating and body weight. Ann NY Acad Sci 863: 206, 1998 |
| | Wang J, Akabayashi A, Yu H et al: Hypothalamic galanin: control by signals of fat metabolism. Brain Res 804: 7, 1998 |
| | Dube M, Horvath T, Leranth C et al: Naloxone reduces the feeding evoked by intracerebroventricular galanin injection. Physiol Behav 56: 811, 1994 |
| | Wynick D, Small C, Bloom S, Pachnis V: Targeted disruption of the murine galanin gene. Ann NY Acad Sci 863: 22, 1998 |
| | Zhang Y, Proenca R, Maffei M et al: Positional cloning of the mouse obese gene and its human homologue. Nature 372: 425, 1994 |
| | Considine RV, Sinha MK, Heiman ML et al: Serum immunoreactive-leptin concentrations in normal-weight and obese humans [see comments]. N Engl J Med 334: 292, 1996 |
| | Inui A: Feeding and body-weight regulation by hypothalamic neuropeptides—mediation of the actions of leptin. Trends Neurosci 22: 62, 1999 |
| | Sahu A: Leptin decreases food intake induced by melanin-concentrating hormone (MCH), galanin (GAL) and neuropeptide Y (NPY) in the rat. Endocrinology 139: 4739, 1998 |
| | Mercer JG, Hoggard N, Williams LM et al: Coexpression of leptin receptor and preproneuropeptide Y mRNA in arcuate nucleus of mouse hypothalamus. J Neuroendocrinol 8: 733, 1996 |
| | Schwartz MW, Seeley RJ, Campfield LA et al: Identification of targets of leptin action in rat hypothalamus. J Clin Invest 98: 1101, 1996 |
| | Wang Q, Bing C, Al-Barazanji K et al: Interactions between leptin and hypothalamic neuropeptide Y neurons in the control of food intake and energy homeostasis in the rat. Diabetes 46: 335, 1997 |
| | Xu B, Pu S, Kalra PS et al: An interactive physiological role of neuropeptide Y and galanin in pulsatile pituitary luteinizing hormone secretion. Endocrinology 137: 5297, 1996 |
| | Brownstein MJ, Mroz EA, Kizer JS et al: Regional distribution of substance P in the brain of the rat. Brain Res 116: 299, 1976 |
| | Morel G, Chayvialle JA, Kerdelhue B et al: Ultrastructural evidence for endogenous substance P-like immunoreactivity in the rat pituitary gland. Neuroendocrinology 35: 86, 1982 |
| | Vijayan E, McCann SM: In vivo and in vitro effects of substance P and neurotensin on gonadotropin and prolactin release. Endocrinology 105: 64, 1979 |
| | Woolf CJ, Mannion RJ, Neumann S: Null mutations lacking substance: elucidating pain mechanisms by genetic pharmacology. Neuron 20: 1063, 1998 |
| | Dornelles RC, Franci CR: Alpha- but not beta-adrenergic receptors mediate the effect of angiotensin II in the medial preoptic area on gonadotropin and prolactin secretion. Eur J Endocrinol 138: 583, 1998 |
| | Umemura S, Kihara M, Sumida Y et al: Endocrinological abnormalities in angiotensinogen-gene knockout mice: Studies of hormonal responses to dietary salt loading. J Hypertens 16: 285, 1998 |
| | Hagaman JR, Moyer JS, Bachman ES et al: Angiotensin-converting enzyme and male fertility. Proc Natl Acad Sci USA 95: 2552, 1998 |
| | Hughes JT, Smith W, Kosterlitz HW et al: Identification of two related pentapeptides from the brain with potent opiate agonist activity. Nature 258: 577, 1975 |
| | Li CH, Chung D: Isolation and structure of an untriakonta peptide with opiate activity from camel pituitary glands. Proc Natl Acad Sci USA 73: 1145, 1975 |
| | Li CH: Lipotropin, a new active peptide from pituitary glands. Nature 201: 924, 1964 |
| | Eipper BA, Main RE: Structure and biosynthesis of pro-adrenocorticotropin/endorphin and related peptides. Endocr Rev 1: 1, 1980 |
| | Nakanishi SO, Inoue A, Kita T et al: Nucleotide sequence of cloned DNA for bovine corticotropin-83-lipotropin precursor. Nature 257: 238, 1979 |
| | Krieger DT: The multiple faces of pro-opiomelanocortin, a prototype precursor molecule. Clin Res 31: 342, 1983 |
| | Mollereau C, Simons MJ, Soularue P et al: Structure, tissue distribution, and chromosomal localization of the prepronociceptin gene. Proc Natl Acad Sci USA 93: 8666, 1996 |
| | Connor M, Christie MD: Opioid receptor signalling mechanisms. Clin Exp Pharmacol Physiol 26: 493, 1999 |
| | Mollereau C, Parmentier M, Mailleux P et al: ORL1, a novel member of the opioid receptor family: Cloning, functional expression and localization. FEBS Lett 341: 33, 1994 |
| | Kieffer BL, Befort K, Gaveriaux-Ruff K, Hirth CG: The delta-opioid receptor: Isolation of a cDNA by expression cloning and pharmacological characterization. Proc Natl Acad Sci USA 89: 12048, 1992 |
| | Dhawan BN, Cesselin F, Raghubir R et al: International Union of Pharmacology. XII. Classification of opioid receptors. Pharmacol Rev 48: 567, 1996 |
| | Akil H, Watson SJ: Cloning of kappa opioid receptors: Functional significance and future directions. Prog Brain Res 100: 81, 1994 |
| | Wang JB, Imia Y, Eppler CM et al: Mu opiate receptor: cDNA cloning and expression. Proc Natl Acad Sci USA 90: 10230, 1993 |
| | Meunier JC, Mollereau C, Toll L et al: Isolation and structure of the endogenous agonist of opioid receptor-like ORL1 receptor [see comments]. Nature 377: 532, 1995 |
| | Reinscheid RK, Nothacker HP, Bourson A et al: Orphanin FQ: A neuropeptide that activates an opioidlike G protein-coupled receptor. Science 270: 792, 1995 |
| | Bloom FG: Endorphins. In: Bloom FG, Roth RH (eds): The Biochemical Basis of Neuropharmacology. New York: Oxford University Press, 1982 |
| | Morley SE: The endocrinology of the opiates and opioid peptides. Metabolism 30: 195, 1981 |
| | Weber E, Roth KA, Barchas JD: Immunohistochemical distribution of a-neo-endorphin/dynorphin neuronal systems in rat brain: Evidence for colocalization. Proc Natl Acad Sci USA 79: 3062, 1982 |
| | Watson SJ, Akil H, Frichli W et al: Dynorphin and vasopressin: Common localization in magnocellular neurons. Nature 216: 88, 1982 |
| | Khatchaturian H, Sherman TG, Lloyd RV et al: Prodynorphin is endogenous in the anterior pituitary and is colocalized with LH and FSH in gonadotrophs. Endocrinology 199: 409, 1986 |
| | Boom A, Mollereau C, Meunier JC et al: Distribution of the nociceptin and nocistatin precursor transcript in the mouse central nervous system. Neuroscience 91: 991, 1999 |
| | Anton B, Fein J, To T et al: Immunohistochemical localization of ORL-1 in the central nervous system of the rat. J Comp Neurol 368: 229, 1996 |
| | Wilkes MM, Stewart RD, Bruni JF et al: A specific homologous radioimmunoassay for human-endorphin: Direct measurement in biological fluids. J Clin Endocrinol Metab 50: 309, 1980 |
| | McLoughlin L, Tomlin S, Grossman A et al: CRF-41 stimulates the release of beta lipotrophin and beta endorphin in normal human subjects. Neuroendocrinology 38: 282, 1984 |
| | Wehrenberg WB, Wardiaw SL, Frantz AG et al: β-Endorphin in hypophyseal portal blood: Variations throughout the menstrual cycle. Endocrinology 111: 879, 1982 |
| | Yamamoto T, Nozaki-Taguchi N, Kimura S: Effects of intrathecally administered nociceptin, an opioid receptor-like 1 (ORL1) receptor agonist, on the thermal hyperalgesia induced by carrageenan injection into the rat paw. Brain Res 754: 329, 1997 |
| | Lloren SC, Martres MP, Baudry M et al: Hypersensitivity to noradrenaline in cortex after chronic morphine: Relevance to tolerance and dependence. Nature 274: 603, 1978 |
| | Myers PR, Livengood DR, Shain W: Effect of morphine on a depolarizing dopamine response. Nature 257: 238, 1975 |
| | Gudelsky GA, Porter JC: Morphine and opioid peptide induced inhibition of the release of dopamine from tuberoinfundibular neurons. Life Sci 25: 1697, 1979 |
| | Reid RL, Hoff JD, Yen SSC et al: Effects of exogenous β-endorphin on pituitary hormone secretion and its disappearance rate in normal human subjects. J Clin Endocrinol Metab 52: 1179, 1981 |
| | Stubbs WA, Jones A, Edwards CRW et al: Hormonal and metabolic responses to an enkephalin analogue in normal man. Lancet 2: 1225, 1978 |
| | Quigley ME, Yen SSC: The role of endogenous opiates on LH secretion during the menstrual cycle. J Clin Endocrinol Metab 51: 179, 1980 |
| | Wardlaw SL, Wehrenberg WB, Ferin M et al: Effect of sex steroids on β-endorphin in hypophyseal portal blood. J Clin Endocrinol Metab 55: 877, 1982 |
| | Casper RF, Alapin-Rubillovitz S: Progestins increase endogenous opioid peptide activity in postmenopausal women. J Clin Endocrinol Metab 60: 34, 1985 |
| | Shoupe D, Montz FJ, Lobo RA: The effects of estrogen and progestin on endogenous opioid activity in oophorectomized women. J Clin Endocrinol Metab 60: 178, 1985 |
| | Rasmussen DD, Liu IH, Wolf PL et al: Endogenous opioid regulation of gonadotropin-releasing hormone release from the human fetal hypothalamus in vitro. J Clin Endocrinol Metab 57: 881, 1983 |
| | Ishizuka B, Quigley ME, Yen SSC: Postpartum hypogonadotrophinism: Evidence for increased opioid inhibition. Clin Endocrinol 20: 573, 1984 |
| | Baranowska B, Rozbicka G, Jeske W et al: The role of endogenous opiates in the mechanism of inhibited luteinizing hormone (LH) secretion in women with anorexia nervosa: The effect of naloxone on LH, FSH, prolactin and β-endorphin secretion. J Clin Endocrinol Metab 59: 412, 1984 |
| | Quigley ME, Sheehan KL, Casper RF et al: Evidence for an increased dopaminergic and opioid activity in patients with hypothalamic hypogonadotropic amenorrhea. J Clin Endocrinol Metab 50: 949, 1980 |
| | Rubinstein M, Mogil JS, Japon M et al: Absence of opioid stress-induced analgesia in mice lacking beta-endorphin by site-directed mutagenesis. Proc Natl Acad Sci USA 93: 3995, 1996 |
| | Sora I, Takahashi N, Funada M et al: Opiate receptor knockout mice define mu receptor roles in endogenous nociceptive responses and morphine-induced analgesia. Proc Natl Acad Sci USA 94: 1544, 1997 |
| | Slowe S, Simonin F, Kieffer B, Kitchen I: Quantitative autoradiography of mu-, delta- and kappa 1 opioid receptors in kappa-opioid receptor knockout mice. Brain Res 818: 335, 1999 |
| | Kieffer BL: Opioids: First lessons from knockout mice. Trends Pharmacol Sci 20: 19, 1999 |
| | Tian M, Broxmeyer HE, Fan Y et al: Altered hematopoiesis, behavior, and sexual function in mu opioid receptor-deficient mice. J Exp Med 185: 1517, 1997 |
| | Konig M, Zimmer AM, Steiner H et al: Pain responses, anxiety and aggression in mice deficient in pre-proenkephalin. Nature 383: 535, 1996 |
| | Nishi M, Houtani T, Noda Y et al: Unrestrained nociceptive response and disregulation of hearing ability in mice lacking the nociceptin/orphanin FQ receptor. EMBO J 16: 1858, 1997 |